Nutrigenic Helper
A Professional Nutrition Software
at the Hand of Everybody
Nutrigenic Helper is a fully integrated professional application designed specifically for dietitians, nutritionists, anthropometrists, medical doctors and professionals that are working in the nutrition and fitness fields. Also it can be useful in the food industry fields.
This software is the most complete and accurate weight and nutritional management system. It allows to build personalized diets, to make complete nutritional assessments and to get valuable information from minimal anthropometric measurements.
It allows to get complete nutritional reports about macronutrients and micronutrients diet distribution based on the recommended daily allowance (RDA) values. Also allows to get reports about fatty acids and proteins quality distribution, phytochemicals compounds and the list of the USDA food groups present in the patient diet.
Also it is useful for dietary strategies building Mediterranean diets based on AHA, RESMENA and other similar macronutrient distribution on diet programs. It provides friendly graphical guides for building good personalized diets and also it is useful for building new and personalized recipes with nutritional facts labels based on the FDA requirements.
This application is designed for managing custom personalized diets for treating, controlling and preventing nutritional health issues such as metabolic syndrome, obesity, overweight, and diseases risks associated with nutritional conditions such as diabetes and cardiovascular diseases. Plan calories builder and calories restriction calculations features are available, also it can manage weight gains during pregnancy, records biochemical tests and physical activities calculating their energy consumption.
USDA list food and phytochemical, Sidney 2008 and General Glycemic Index databases are available. The USDA list food and phytochemical and General Glycemic Index databases support new foods adding to them.
---
---
Nutrigenic Helper
Nutrigenic Helper is an application developed by Bersoft for professionals involved in health-care, allowing them to help people with nutritional health issues. This application is fully affordable to everybody by a subscription plan for very few money per month and the company is offering discounts when the application is installed in multiple computers in the same health-care institution.
This application allows to get detailed nutritional assessments. It analyses macronutrients and micronutrients from the patient diet comparing the values with the RDA standard values. Fatty acids and proteines quality, phytochemical compounds and food groups present in the present diet are part of the diet analyzer feature. Also, are available Anthopometric Measurements that allow to calculate the body composition using the main anthropometric equations. Health risks related with nutritional issues can be predicted as well body composition can be estimated with quite accuracy from a few anthropometric measurements.
Using Nutrigenic Helper it is possible to design personalized diets with quite accuracy and easily. AHA (American Heart Assocition), RESMENA (Reduction of the Metabolic Syndrome in Navarra-Spain), Mediterranean and custom diets are supported. Also it allows to design diet templates that after can be modified easily, saving time when a type of diet is used repeatedly.
This software can be used in food industry and other nutrition business for creating recipes with their nutritional facts based on DIV FDA standard values and generating food labels. Phytochemical compounds in the recipes are available.
Nutrigenic Helper is a useful nutritional tool that should be present in the computer of each health-care professional that wants to help people treating weight issues such as overweight and obesity.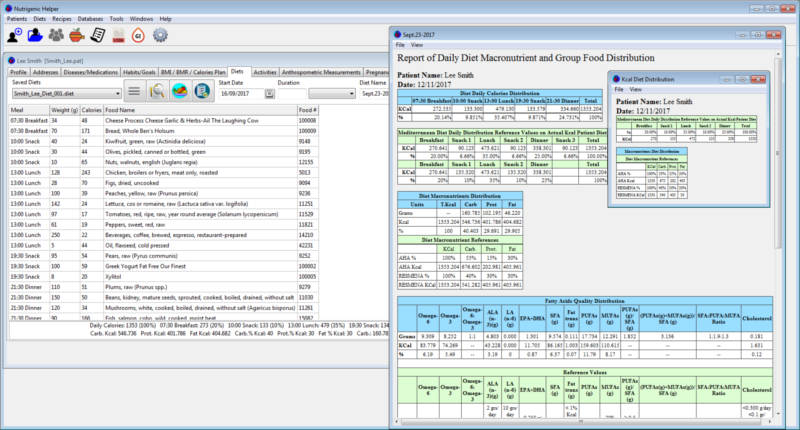 ---