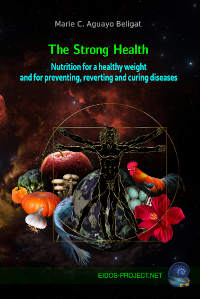 nutrition diets functional foods nutraceutical preventing diseases diabetes healthy weight insomnia
The Strong Health
Nutrition for a healthy weight and for preventing, reverting and curing diseases.
by Marie C. Aguayo Beligat
Book in English.
Lose weight and maintain a healthy weight without putting your health at risk with the novel method applying the principles of thermodynamics.
Healthy diets that promote health, rejuvenation and longevity as well as prevent, reverse and cure diseases naturally.
Diets suitable for diabetics and cholesterol-lowering.
Functional foods with nutraceutical properties that prevent and revert osteoporosis and different types of cancer.
Natural and effective solutions for the treatment of insomnia.
Healthy solutions to avoid dehydration.
With this book, you will now be able to very easily make successful healthy canned foods of all kinds for your own consumption or to start a business.
---
Trial version 1.0
Download: The Strong Health - Trial version.pdf
Download: The Strong Health - Trial version.zip
Size pdf:5082736 bytes - 4.8 Mb
Size zip: 4134210 bytes - 3.9 Mb
Press Release
SAN JAVIER, MURCIA, SPAIN, February 20, 2023 /EINPresswire.com/ -- "The Strong Health" is an innovative book on nutrition conceived for all people who want to improve their health and have a healthier lifestyle. The content of this book goes beyond the concept of traditional nutrition that seeks to satisfy nutritional requirements to avoid diseases. In the innovative field of nutritional science, a new and revolutionary concept is introduced based on functional foods with nutraceutical properties as an important part of a diet to prevent, reverse and cure diseases including cancer. Also to achieve a healthy weight without putting health at risk, the book promotes a nutrition system based on an innovative method that observes the laws of the universe inspired by the principles of thermodynamics that allows adjusting the nutritional program over time achieving a good physiological adaptation and that in turn satisfies all nutritional requirements through a totally healthy diet made up of functional foods with nutraceutical properties.
The author is the creator of a new diet and a new food pyramid based on totally healthy foods. The new nutritional system, known as the "Eidos diet", is made up primarily of vegetables, fruits, whole foods and spices. To prevent, reverse and cure diseases, the author emphasizes the massive use of spices to season meals and the consumption of mostly raw foods with minimal culinary processing. She also promotes proper food hygiene to get more benefit from the property of food.
It should be noted that the Eidos diet is a highly beneficial diet for people suffering from diabetes and high cholesterol. The book also includes chapters on the nutritional treatment of osteopenia and osteoporosis, and insomnia, as well as the problem of dehydration. The content of the book is fully based on scientific evidence, it is written in a clear and simple language within the reach of all people, including professionals in different areas of health. It has more than 400 pages full of substantial content that helps to greatly improve health.
The book is available in Amazon stores worldwide. The English version is entitled "The Strong Health" and the Spanish version is published under the title "La Salud de Hierro".
Customer Reviews

Excellent book for getting a great lifestyle. I recommend it!!!
Margaret
This is a missing book about healthier nutrition for a very good health. Thanks for publishing this book.
Linda
Don't miss this book. It's an amazing book.
Richard
With this book, now fighting obesity whit the thermodynamics method is easier. The method allow a good adaptation to the diet without put at risk the health. Thanks for publishing this book. It is a great book!
Carol
I have diabetes. With the Eidos diet now I can eat very well without problem. I found great solutions for diabetics and insomnia.
Francis